CheesyBonb
is a recommended character recommended by Jack Orange. He had a chance to debut in
Time to Rhyme
, but he only got 8 votes in Opposite Day... or Maybe Not! His old body was Cheesy's body from II II/II 2, but since it was too unoriginal, Jack Orange changed his body so it looked more unique. He is now 11 year old.
Nicholas got CheesyBonb incorrect in Episodes 3 and 5. Jack Orange said "half cheese, half lemonade", so he made CheesyBonb a Cheesy and a Lemonade as BFFs. He now see what he's supposed to be.
Jack Orange thought he recommended him as CheesyBomb.
His birthday is on Jack Orange's birthday.
He has 5 brothers named Swiss, Parmesan, Cheeser, Cheader Jack, and American. (he's twins with Cheader Jack)
His old body was stolen from Inanimate Insanity 2.
He will be 1 of the 14 new contestants in BFISR (Battle for Isle Sleep Reboot)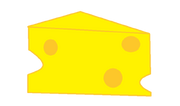 Ad blocker interference detected!
Wikia is a free-to-use site that makes money from advertising. We have a modified experience for viewers using ad blockers

Wikia is not accessible if you've made further modifications. Remove the custom ad blocker rule(s) and the page will load as expected.